Getty Images/John Lamparski
Robert Griffin III with a bust of himself made from Subway's Smokehouse BBQ Chicken subs.
Some of the greatest athletes in the world endorse some of the unhealthiest foods in the world. And a recent study shows that these celebrity athlete-endorsed ads may be more prevalent than you think.
But we're not here to talk about the evils of brainwashing children with superstars — we will leave that to chef Jamie Oliver, who often rants about the subject.
What we are here to look at is just how goofy these ads can get when they associate incredibly fit people with intensely sugary and fatty products.
Most athletes happen to be terrible actors, and the ones who aren't bad (Peyton Manning, actually, is the only one who comes to mind) are forced to read awful lines, anyway.
Sports drink giants Gatorade and Powerade make products that are basically sugar, water, and sodium, but they're actually not unhealthy when associated with exercise — and both brands have had cool commercials.
As for Red Bull, well, no one really argues that energy drinks are healthy, but Red Bull runs events that fit the brand's image, and with high production values, to boot. It put a guy in space and had him plummet to Earth! So we'll let it slide, too.
We will check out some corny ads and promotions that will make you wonder how the partnerships ever started in the first place.
You will notice some repeated faces. The report we referred to earlier, from the American Academy of Pediatrics lists LeBron James, Serena Williams, Peyton Manning, Tony Stewart, and Apollo Ohno among the top 10 athletes associated with the most food brands with low nutritional content.
Oreo deserves some credit for its athlete endorsements, because at least a fast food chain or sports drink can make the pitch that they have some healthy options available.
And what's even more daring is the Nabisco brand used its roster -- which included Venus and Serena Williams, Eli and Peyton Manning, Apollo Ohno, and Shaquille O'Neal -- to sell its most unhealthy treats, like the ungodly Triple Double Oreo.
Watch the Williams sisters coach a team to victory against the Manning brothers in a bizarre Double Stuf Oreo licking contest. It's pretty incredible: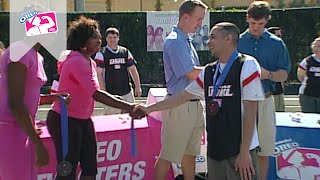 (video provider='youtube' id='sJtklJxRWCM' size='xlarge' align='center')
When Peyton Manning joined the Denver Broncos in 2012, he decided to buy 21 Papa John's franchises in Colorado. Now, there's not an NFL game that goes by that isn't inundated with commercials starring both Manning and Papa John himself, John Schnatter.
And other athletes have noticed, too -- in a game against the Broncos in September, the Philadelphia Eagles defence yelled 'Papa John, Papa John!' to distract Manning as he called an audible.
Peyton and 'Papa' are like the annoying stars of a cheesy buddy comedy in their ads, which feature pizzas with 'better ingredients' like pepperoni and sausage:
(video provider='youtube' id='xxkhW31zaWQ' size='xlarge' align='center')
Jared Fogle has been Subway's lead spokesman since 2000, after he lost 245 pounds on the 'Subway Diet' of a six-inch turkey sub for lunch and a veggie foot-long for dinner every day. In 2012, Subway crowned itself 'The official Training Restaurant Of Athletes Everywhere.'
Its roster has included NFL star Robert Griffin III, the boxer Laila Ali, NBA All-Star Blake Griffin, and Olympians Apollo Ohno and Michael Phelps. Subway's sponsorships of programs like the American Heart Society is certainly admirable, but there's just something strange about associating the processed components of a Tuscan Chicken Melt with a healthy lifestyle.
You've probably seen plenty of the corny athlete-sponsored Subway commercials, but there's a good chance you haven't watched this creepy guy make horrifying pepperoni busts of Ndamukong Suh and CJ Spiller:
(video provider='youtube' id='U-D1rHNUP8k' size='xlarge' align='center')
McDonald's is one of the all-time leaders in endorsements. It even has its own basketball tournament with an exciting history -- since 1978, it has been gathering the top high school graduates and pitting them against each other. LeBron James, Dwight Howard, and Kobe Bryant all made splashes in it.
And with this reach comes plenty of commercials with world-class athletes indulging in burgers and fries (though we do like this one about LeBron's love of McNuggets).
Here's LeBron sitting down with a Big Mac meal. He gets pretty psyched when he wins some free fries (he hadn't won a championship yet). Skip to 0:15: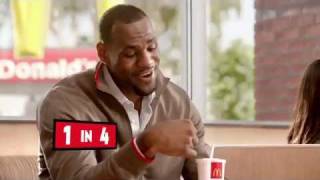 (video provider='youtube' id='48qzZT4Rj24' size='xlarge' align='center')
Shaq starred in Burger King ads for years, and in 2012 David Beckham signed on to pitch a low-calorie smoothie. The iconic soccer player's role was to use his dreamy looks to seducing people to buy a 'handcrafted' sugary drink. BK's also had endorsement deals with the Detroit Tigers' Miguel Cabrera and former UFC champ Anderson Silva.
A few years ago, Burger King gave College Humour a video of NASCAR driver Tony Stewart posing as a cashier. It was summarily destroyed by YouTube viewers. We do, however, enjoy the angry guy introduced at 1:12: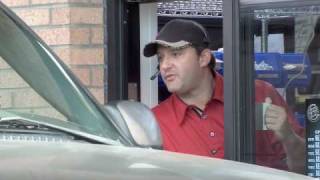 (video provider='youtube' id='Xu-56-CkvFA' size='xlarge' align='center')
For KFC's new Go Cup campaign, its agency Draftcb produced an array of ads mimicking videos a customer would take on his or her phone. Among the #HowDoYouKFC ads was one featuring members of the Tempest Freerunning Academy doing crazy parkour moves -- with a cup full of fried chicken and potato wedges in one hand. KFC recently removed the video after it was posted for just several days.
Tempest told us that the video was posted without its permission, and that it was test footage for an advertisement the team was still considering.
We don't have access to the video, but we did see it when it still online. Viewers didn't seem to enjoy the association of fried food with remarkable athleticism. An example:
On the other hand, viewers seem to enjoy 'The Professor' snacking in between crazy streetball moves.
(video provider='youtube' id='rO2I-r1CaGs' size='xlarge' align='center')
This Bubblicious ad premiered during Super Bowl XXXIX, and was LeBron's first commercial. It's a pretty dramatic spot for a kid's bubble gum: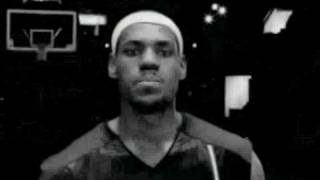 (video provider='youtube' id='JAUugZe8LPo' size='xlarge' align='center')
Business Insider Emails & Alerts
Site highlights each day to your inbox.
Follow Business Insider Australia on Facebook, Twitter, LinkedIn, and Instagram.