Karyne Levy/Business Insider
My friend made me a cross-stitch of Mario through the years.
I spent hours playing "Super Mario Bros." as a kid.
My favourite memory is of me and my friends trying so hard to get unlimited lives at the end of World 3-1.
But that's only the tip of the iceberg when it comes to awesome cheats in the game.
Of course, some of these gems are more glitches than actual cheats. But that doesn't make them any less awesome.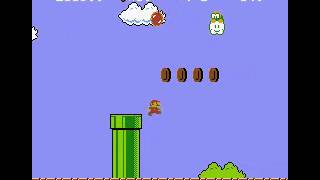 (video provider='youtube' id='JsLEwcFCFKo' size='xlarge' align='center')
At the end of any level, try to get hit by Bowser while also touching the ax at the same time. In the next level, you'll get a mushroom instead of a fire flower, which will make you small. The next time you find a fire flower, you'll stay small, but you'll have fire power!
If you die and want to keep playing, but don't want to start all the way back at World 1-1, you're in luck. When you get back to the Player 1 or 2 screen after Game Over, hold the A button and hit Start. You'll then be taken back to the beginning of the world you died in. So if you die in World 3-3, you'll be taken back to World 3-1.
There's a glitch at the end of World 1-2 that takes you to what people lovingly refer to as 'Minus World.' At the end of the level, when you get to the pipe and bricks, stand on the edge of the pipe while ducking and facing the left. Jump to the right and try not to break the block that's directly next to the pipe. If you do it correctly, you'll slide right through the bricks and end up in a Warp Zone level. Go into the first pipe you see, and you'll be ferried away to World -1.
There's nothing really to do in the level but swim around (it's a water level). Once you get to the end, you go through a pipe that takes you back to the beginning.
As Transmission Zero points out, the level isn't really called -1. It's actually World 36-1, but the 36 doesn't actually show up. Also, the level is identical to World 7-2. A strange glitch indeed!
If you collect all the coins in the third level of any world -- for example, World 1-3 -- you'll get a bonus 1-Up mushroom in the first level of the next world -- for example, World 2-1.
The 1-Up mushroom is located in an invisible block you have to hit.
When you kick a Koopa to the right, follow it. If you kill eight other Koopas with it, you get an extra life.
OK, this isn't really a cheat, but it is fun to watch. When you get out of a tube or start any level, press A and B at the same time. Then continue to hold B, and Mario will slide. But make sure Mario is nice and fiery for this trick to work.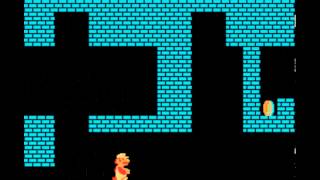 (video provider='youtube' id='Anbg4oXhyr8' size='xlarge' align='center')
There are three warp zones in the game. The first is in World 1-2, which also holds the infamous 'Minus World' glitch. Jump up and break some blocks in the brick ceiling. Then run and jump so you're now running across the brick ceiling. At the very end of your run, you'll find three pipes, leading you to World 2, 3, or 4.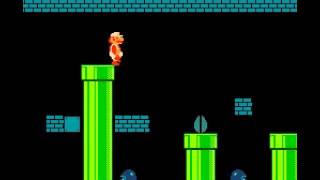 (video provider='youtube' id='Vn8nQODyBtg' size='xlarge' align='center')
At the end of the level, jump up and run across the bricks. At the end, you'll reach a Warp Zone that takes you to World 5-1.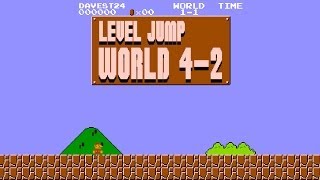 (video provider='youtube' id='y2-26udxlBM' size='xlarge' align='center')
But an even better Warp Zone is located by finding a secret beanstalk in the middle of the level. If you can find it, you're rewarded by a Warp Zone to levels 6, 7, or 8.
You can essentially beat the game in just a few minutes by warping to World 4, then World 8.
(video provider='youtube' id='J-cWQFk9bi8' size='xlarge' align='center')
At the end of World 3-1, there's a staircase that leads to the flagpole. Two Koopas come down the stairs. Jump over the first one, but then when the second one comes down, jump on the Koopa so he bounces against the stair. If you jump again and time it just right, you can jump on him multiple times, leading to multiple lives.
Don't get greedy, though. If you get more than 128, your game will be over the next time you lose a life.
Business Insider Emails & Alerts
Site highlights each day to your inbox.
Follow Business Insider Australia on Facebook, Twitter, LinkedIn, and Instagram.